In future, do NOT type in all caps.[/align][/align][/align]Have you cleared the code? Codes must be cleared to go away.[/align][/align][/align][/align]
P0452
SCHEMATIC: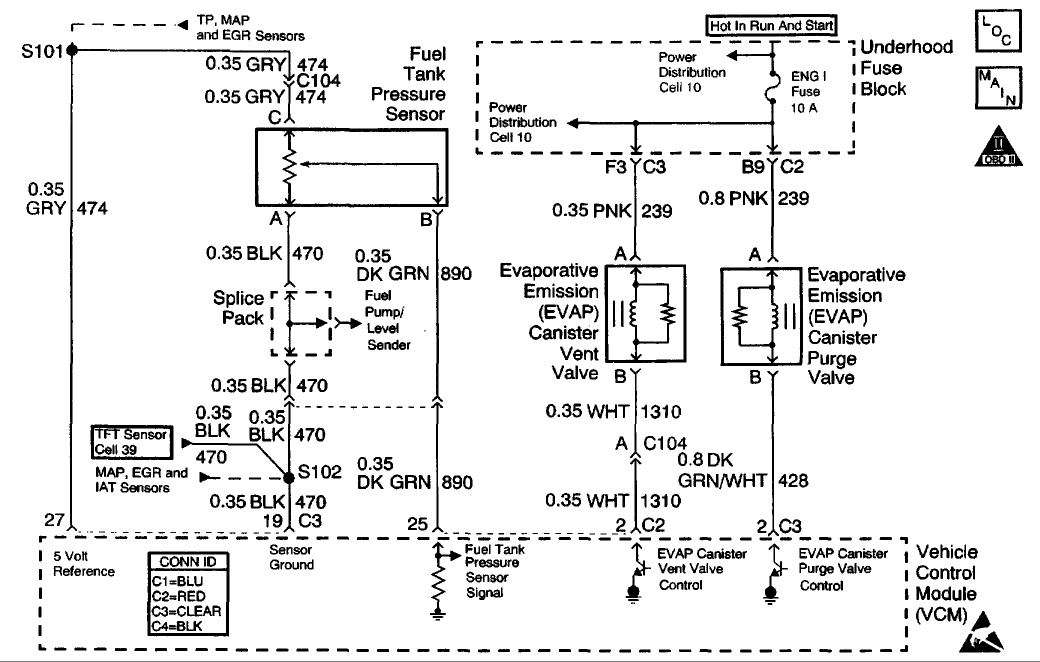 CIRCUIT DESCRIPTION
The fuel tank pressure sensor responds to changes in the fuel tank pressure or vacuum. This information is used in order to detect vacuum decay or an excessive vacuum during the EVAP diagnostic routing. The fuel tank pressure sensor signal voltage to the VCM varies from a minimum OF about 0.1 volts with pressure in the fuel tank to above 4.0 volts with a high vacuum in the fuel tank.
The fuel tank pressure sensor display on the scan tool has an auto zero feature which occurs at each ignition cycle and is corrected according to the barometric pressure. Because of this, the fuel tank pressure sensor display may not accurately reflect the actual output of the sensor or the conditions within the fuel tank.
The fuel tank pressure sensor diagnosis table is intended to isolate and diagnose the electrical problems with the sensor wiring or the sensor.
CONDITIONS FOR RUNNING THE DTC
The ignition switch is in the RUN position.
CONDITIONS FOR SETTING THE DTC
The fuel tank pressure sensor voltage is less than 0.1 volt for more than 5 seconds .
ACTION TAKEN WHEN THE DTC SETS
The VCM turns ON the MIL after 2 consecutive driving cycles with the fault active.
CONDITIONS FOR CLEARING THE MIL OR DTC
* The control module turns OFF the MIL after 3 consecutive drive trips when the test has run and passed.
* A history DTC will clear if no fault conditions have been detected for 40 warm-up cycles. A warm-up cycle occurs when the coolant temperature has risen 22°C (40°F) from the startup coolant temperature and the engine coolant reaches a temperature that is more than 70°C (158°F) during the same ignition cycle.
* Use a scan tool in order to clear the DTCs.
DIAGNOSTIC AIDS
1. Inspect the control module harness connectors for the following conditions:
o Improper mating
o Broken locks
o Improperly formed
o Damaged terminals
2. Inspect the wiring harness for damage. If the harness appears to be OK, observe the fuel tank pressure sensor display on the scan tool while moving the connectors and the wiring harnesses related to the sensor. A change in the display will indicate the location of the fault. Refer to Wiring Repairs in Diagrams.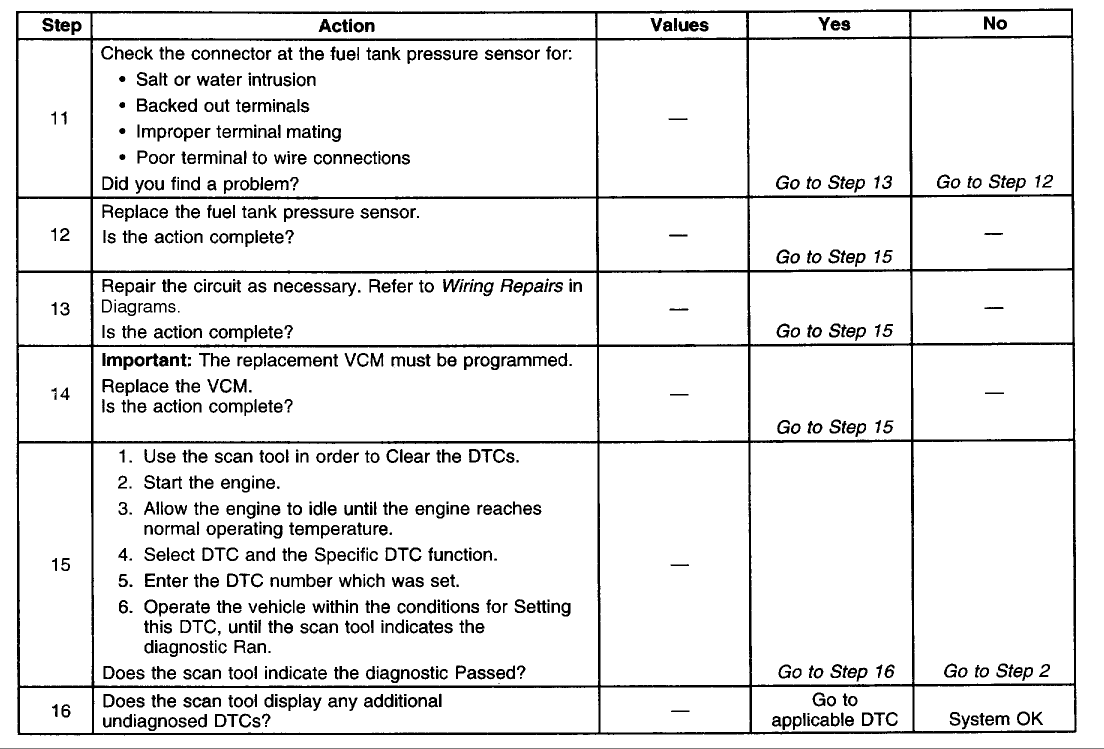 TEST DESCRIPTION
The numbers below refer to the step numbers on the diagnostic table.
5. If the VCM recognizes the high signal voltage, the VCM and the wiring are okay.
[/align]