Join Date: Mar 2007
Posts: 5
March 3rd, 2007, 4:48 PM #
1
Chevy Venture Tire sizes?
I currently have 215x70R15 as the tires. I believe this came from the factory like this cause it says Firestone on it. Anyway, i have an opportunity to pick up pair of new 205x70R15 but wonder if the tires will fit. Will 205x70R15 fit on the Venture safetly?
Join Date: Jan 2010
Posts: 1
January 31st, 2010, 8:13 AM #
3
Hello. This is my first post.

My girlfriend's 2000 Venture needs new tires. I have a set of four slightly used Goodyear Wrangler P225/75 R15 tires in very good condition that I would like to give to her. Will these fit OK and not cause any problems other than her speedometer reading too low? Thanks.
Join Date: Nov 2014
Posts: 1
November 10th, 2014, 2:26 PM #
6
tire size for 2005 chevy venture.
I was curious if 235/75R15 tires would fit on my 2005 chevy venture.
Join Date: Oct 2012
Posts: 63
Moscow. Russia
November 10th, 2014, 4:14 PM #
7
Hi !
For our cars the same suspension.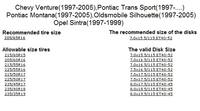 A lot depends on the ET disk.
But I think that for the 235 rear wheel will be many.