2007+ Tahoe Add-an-Amp
April 13th, 2009, 1:38 PM
CF Beginner
Join Date: Apr 2009
Posts: 15
Likes: 0
Received 0 Likes on 0 Posts
2007+ Tahoe Add-an-Amp
---
Well, after a lot of searching for the Bose Nav/DVD/Rear Ent wiring diagram, I finally found the only useable signal for adding a sub amp.
The issue I had was that tapping the speaker wires on the Bose system changed the impedence too much and threw the Bose amp into a state of confusion. The only logical reasoning behind this is that Bose uses an auto-clip-sensning system that basically tells the amp how much stress the speaker is under through the language of impedence. Notice how when you rotate your volume **** all the way up, it just magically knows when to stop? I realized also that adding an amp for mids and highs would have to be done by grabbing the low level signal before the Bose amp FYI.
The center console subwoofer is practically located under the dash. After learning that the Bose amp was in the center console at the rear under the storage area, I figured there must be high level sub signal traveling through the center console.
Sure enough, I popped out the very easily accessible storage tray and spied a 4-wire harness. You might be thinking only 1 pair of wires go to a sub. Well, as I learned when adding an amp to my CTS w/ Bose, they like to run 2 pairs, one for each voice coil. All you have to do is tap each pair and run to a line-level adapter or hi-lo converter as some of you know them by. The wiring is as follows:
***These colors are on the amp side of the plug. The sub side has different colors all together.***
Voice Coil #1 aka Channel 1
+Dark Blue w/ White Stripe
- Light Green w/ Black Stripe
Voice Coil #2 aka Channel 2
+Dark Green
-Light Blue w/ Black Stripe
***THESE ARE SUB LEVELS NOT FULL RANGE..TAPPING THESE WIRES ARE ONLY FOR INSTALLING SUBS***
**Since it is easier to tap the larger gauge wires on the sub side of the harness, just use the plug's corresponding letters (ABCD) to match the wires up.**
There is plenty of room under most second row seating for one large amp or multiple smaller amps. Even the factory beauty board can be cut to easily flush amps in and hide wiring.
The 12Volt Main and 12Volt Accessory/Ignition wire locations are pictured below.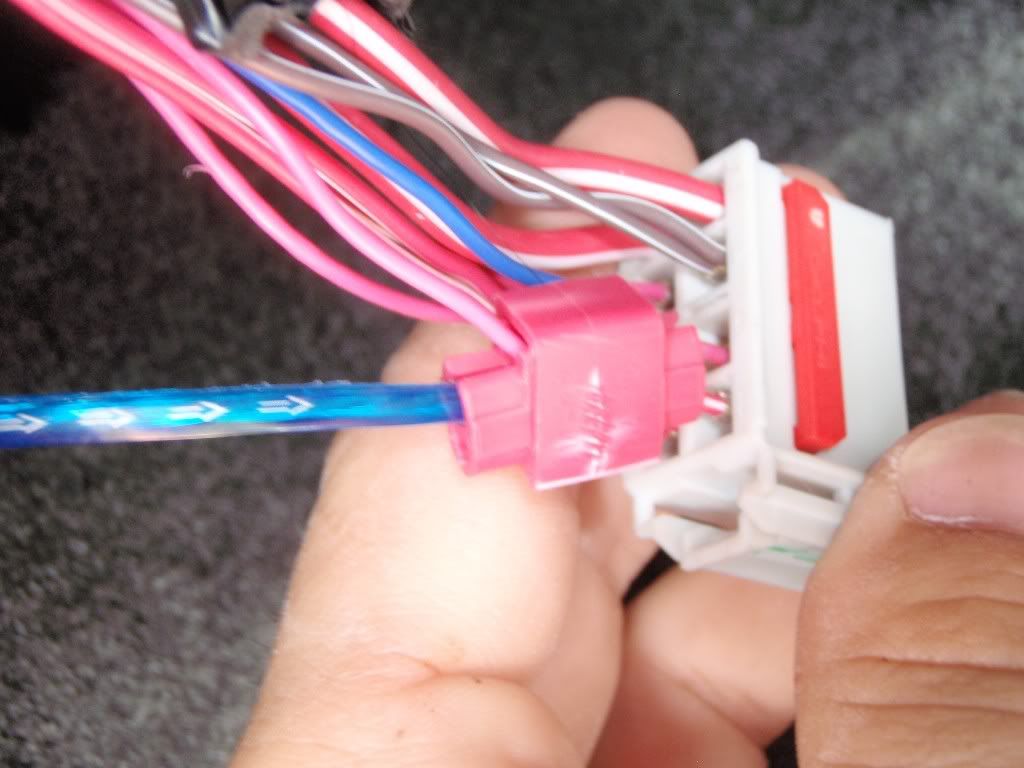 I am a professional installer who works out of Southern California and would love to help out if anyone needs.
760-773-8728 Travis Brown
[email protected]
---
Last edited by socaliguy81; April 16th, 2009 at

12:06 PM

.
April 13th, 2009, 2:32 PM
CF Beginner
Join Date: Apr 2009
Posts: 15
Likes: 0
Received 0 Likes on 0 Posts
---
Its amazing actually that it looks that clean after a weekend at the dunes!
As far as recommendations go, I need to know a few things first...
What kind of music do you listen to most?
Which is most important.. Clarity or Volume or Both?
What is you budget roughly?
Travis
April 13th, 2009, 5:10 PM
CF Active Member
Join Date: Jan 2007
Location: Northern galactic plane of Andromeda
Posts: 171
Likes: 0
Received 0 Likes on 0 Posts
---
Good analysis, Travis! Indeed, the sub uses a 2 ohm nominal dual voice coil transducer (actually about 1.75 ohms), and the amp does indeed employ clip detection.
April 13th, 2009, 5:30 PM
Administrator
Join Date: Apr 2008
Location: Austin, Texas
Posts: 7,522
Likes: 0
Received 0 Likes on 0 Posts
---
actually I have an old school Punch 40ix in mint condition that I'd like to put to use to put a little thump in the cargo area and something that will still accommodate the 3rd row and can be pulled out quickly when I need all the cargo area.
I used to have a couple of 10in 8ohms ( C10-8's) in a box that got lifted years ago and just haven't pursued it.
April 15th, 2009, 8:40 PM
CF Active Member
Join Date: Aug 2006
Posts: 111
Likes: 0
Received 0 Likes on 0 Posts
---
very good write up great pics... when I use that pink ignition signal wire I always like to use a relay, especially since the whole car runs on low voltage system I dont want to even take the chance with that very delicate BCM, just a thought though, it wouldnt hurt since you have both 12v constant and ground there also.